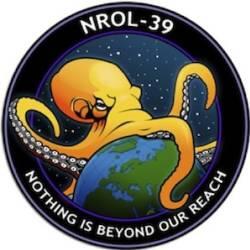 Seriously
.
The satellite was launched late Thursday night, and ODNI's Twitter feed posted photos and video of the launch over the following days.

"NROL-39 is represented by the octopus, a versatile, adaptable, and highly intelligent creature," an NRO spokeswoman told Forbes on Friday before launch. "Emblematically, enemies of the United States can be reached no matter where they choose to hide."
Someone at the National Reconnaissance Office is having
way
too much fun.